#103 St. Libory, Howard County Nebraska
Home of the best watermelon around!
Blues Festival- end of JUNE
Watermelon Days- 3rd week in AUGUST
Gold Wing Riders Motorcycle Rally in AUGUST
It's said: Saint La-BOR-ee
The town was first called Grantville, but in the late 1880's it changed to St. Libory in honor of St. Libory Illinois where many settlers came from. One interesting fact: both St. Libory's are bedroom communities to larger cities. St. Libory Illinois is 35 minutes from St. Louis. St. Libory Nebraska is close to St. Paul and 10 miles north of Grand Island.
CATHOLIC PATRON SAINT: ST. LIBORIUS
Saint Liborius was a Bishop in LeMans, France in 348. He's the patron saint: against colic, against fever, against gall stones, against gravel, and against kidney stones. http://www.catholic-forum.com
The St. Libory Depot and high school band.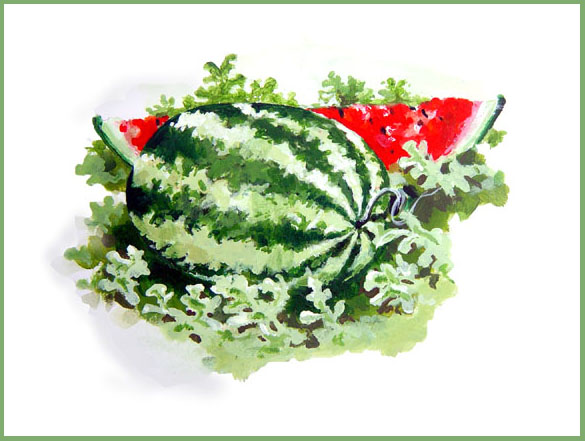 WHY ARE THE WATERMELONS SO GOOD IN ST. LIBORY?
I talked with a horticulturist who says- it's all in the soil! St. Libory has sandy soil which allows water to drain, creating the perfect conditions for the watermelons and other produce.
Fruit is sold by the truckload in St.Libory. At one time produce stands were all along highway 281. Now there are 2 main produce stands during the summer, and a few other stands that sell pumpkins during the fall.
SING YOUR HEART OUT EVERY SATURDAY NIGHT!
The owner of the Beer Barrel Bar invites everyone to Saturday Night Karaoke and look for the daily specials for good food!
The St. Libory Volunteer Fire Department
Ron Dvorak, the fire dept. Captain, invites everyone to town for the annual Blues Festival. Although this year, they've added country music to the play list. The event is a fundraiser for the Crisis Center in Grand Island. For more information contact Mr. Dvorak at the fire department.
The department is also constructing a new training center. St. Libory Schools also received defibrillators through a grant that was funded by the Federal Office of Rural health Policy.
SOMETHING THIS SPONTANEOUS HAS TO BE FUN by: Gary Hickman
It all started on an Internet message board for the Gold Wing Road Riders Association. Mike from Colorado Springs mentioned we needed to get together and meet face to face. Ken from Canada suggested a central place for all to meet. As a result, Gary & Shari Hickman of St. Libory were asked to host this get-together. And the rest, as they say, is history. From the suggestion to the setting of a date was a week, so the slogan was "Something this spontaneous HAS to be fun!" A shirt was designed and ordered. A Gold Wing motorcycle for their common tie, a Conestoga type trailer to represent the Great Plains, with a computer to represent the Internet where they first met. A sign based on the shirt design greeted the travelers. In August of 2004 they came from 22 states and two Canadian provinces. They pitched tents in the Hickman's back yard, checked in to the Comfort Inn in Grand Island, or camped out at Mormon Island. A fellow from Norway wanted to come, but was not able to make it. During the weekend they met friends who had just been names on the Internet, and discovered they truly were friends. They had so much fun, they decided to do it again the following year.
So it happened again last August. The guys & gals kidded about Nebraska being the Middle of Nowhere, so the slogan this year was "The Middle of Nowhere, AGAIN!" They came from 28 states, literally border to border, coast to coast, and Canada. They went to the Kearney arch, they rode the back roads of Nebraska. On Friday the attendees presented Gary & Shari with a banner to be used in future rallies. There were watermelon feeds and hayrides. And some orneriness with the horse tank. Then on Saturday night, something special happened. A couple with high medical bills was presented with a check, money gathered from the many people who attended and many who could not. Over $2000 was raised for them. There wasn't a dry eye in the house. Then the evening was capped off by throwing the host in the horse tank! And the fellow from Norway? He bought a shirt each year, so there are two shirts in Norway with St. Libory's name on them. And he is trying to arrange it to be here this year. Every August St. Libory will be visited by these people from all over the United States, Canada, and hopefully, the World. And every year they will find someone who needs help and surprise them. Gary was let go from his job of ten years last fall. Jobs were scarce, so he decided to open his own business. He provides mechanical work on cars & trucks including brakes, suspension, tune-ups, and engine overhauls. He also works on lawn & garden equipment and does general welding. He has been in the repair field in various capacities for most of his life.